Upcoming Events
The Living Kitchen
Upcoming Classes:
May 9, 2012 at 6 p.m.
May 10, 2012 at 11:30 a.m.
Join Sub-Zero/Wolf Executive Chef Garth Blackburn in our Living Kitchen and enjoy a meal cooked to perfection using Sub-Zero and Wolf equipment.
Don't forget to RSVP!
Read More

Southern Living Showcase
5303 Aspen, Bellaire Texas Classes:
May 12-13, 2012 from 10 a.m.- 6 p.m.
May 19 - 20, 2012 from 10 a.m. - 6 p.m..
Join us for the first Southern Living Magazine Showcase! Proceeds from the $10 admission benefits literacy programs of Friends of Bellaire Library & Houston Center for Literacy.
Click Read More for more info!
Read More

Latest Blog Posts

Design Inspiration
At K&N Sales, we understand the importance and value of great design...
Read More


Outdoor Cabinetry
Sometimes, the difference between "maybe" and "I'll take it!" on a new appliance...
Read More


Outdoor Barbecues
There are few hotter debates among foodies and cooks than the question of...
Read More


Getting Ready for Barbecue Season
As we enjoy these few months of great weather...
Read More

Featured Product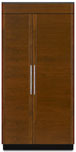 Jenn-Air 42-inch Built-in Refrigerator
15.8 cu. ft. Fridge
8.8 cu. ft. Freezer
Precision Temperature
LCD Display
Pulsed Defrost
Ice Maker
See More Appliances

Tips for Outdoor Entertaining & Barbecuing
We dedicated our March blog topics to all things barbecue, including how to prep your barbecue for spring and whats new in high-end outdoor grills and ovens. Outdoor entertaining can be as casual as an impromptu picnic or as elegant as any dinner partyyou simply need the right tools.
More and more homeowners are investing in high-end kitchen appliancesindoor and outbecause more and more often, home cooks want to replicate dishes and techniques they find in restaurants. As appliance manufacturers respond to this increasing demand, home kitchens become even more sophisticated.
As we embark on barbecue season, here are a few of our favorite tips for outdoor entertaining. Bon app