Upcoming Events
The Living Kitchen
Upcoming Classes:
November 8, 2012 at 11:30 a.m.
Join Sub-Zero/Wolf Executive Chef Garth Blackburn in our Living Kitchen and enjoy a meal cooked to perfection using Sub-Zero and Wolf equipment.
Cooking with Viking Classes

Viking Cooking School 24 Waterway Ave
The Woodlands, Texas

November 9, 2012
If you love to cook, entertain, or just appreciate the pleasure of great food, the Viking Cooking School is the place to indulge your passions.
Read More

Latest Blog Posts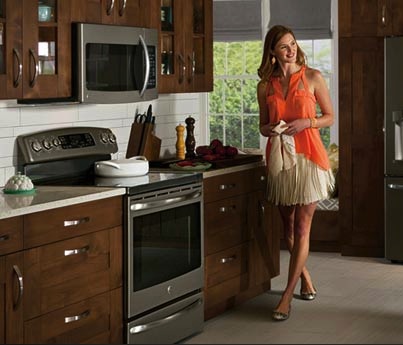 Introducing GEs New Slate Finish
We have some exciting news straight from the source itself. GE has just released a new finish, Slate. According to their press release, GE researchers ...
Read More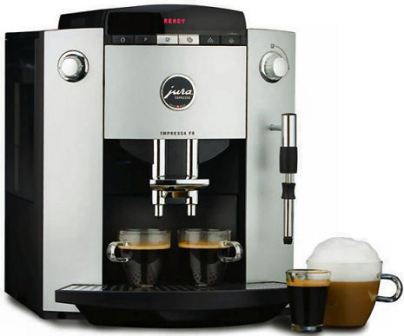 Choosing a Coffee Machine
Last week we talked about single-function appliances, and when they are a good investment for your kitchen and family. This week we continue that theme, but with a bit of a twist...
Read More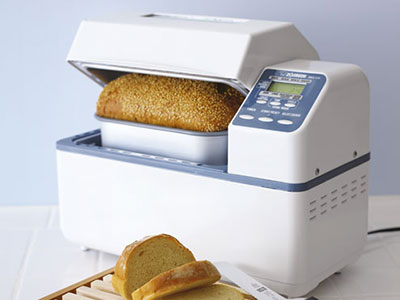 To Buy or Not to Buy: Single-Function Appliances
This week we are turning our attention from larger appliances to smaller ones; specifically, we are going to look at when to invest in single-function appliances and gadgets for your kitchen...
Read More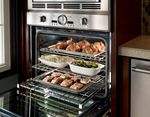 Whats New: Thermador
When an exciting new development in the world of kitchens presents itself, we just have to bring you the news! The luxury appliance maker Thermador is really heating things up...

Read More

Featured Product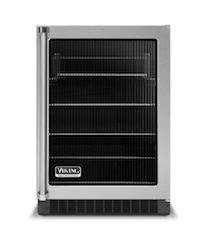 Viking 24 Pro Beverage
6.1 cubic feet capacity
Flip-Up Shelf
Sabbath Mode and Hidden Touchpad Controls
TruProtect System

Home for the Holidays
With the Holidays drawing closer the rush to get your home, especially your kitchen, ready is on. We already discussed decluttering and organizing your kitchen in a blog post, but thats only the beginning of holiday prep.
For Thanksgiving, many people decorate the table with simple gourds. This year may we suggest adding these Martha Stewart Pom-Pom Toms? These cute turkeys add a fun pop to the table and they can be used a placeholder. Looking for something a little less time consuming? Try these Flaming Foliage Candleholders. Theyll light up any Thanksgiving dinner! You can also get your whole family involved in Thanksgiving crafts with these handprint turkeys. These simple turkeys can either decorate the kids table or be a fun craft for the kids to make after dinner.
Turkey: Its Whats For Dinner
Everyone cooks their turkey a different way. You can fry it, bake it, grill it, brine it, barbeque it, the list goes on. However you choose to make your turkey, here are some tips to get the best bird:

Remember to thaw your turkey. Its best to put it into your refrigerator a couple of days prior to cooking. The weight of the turkey will determine how long it needs to thaw. If you are going to brine your turkey, you need to use a fresh turkey.
Meat thermometers are a must! Most cookbooks agree that the turkeys internal temperature should be 165? to 180?.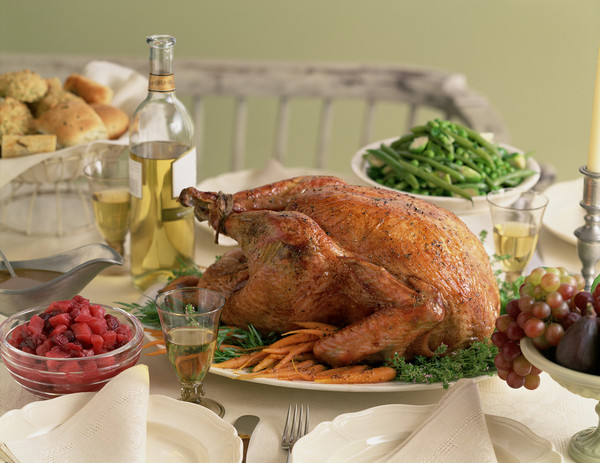 Can I Get That On The Side?
Want to spice up your traditional side dishes? Well we found some yummy twists on traditional favorites. Instead of traditional mashed potatoes, try
Donna's Good Luck Potatoes
or baked mashed potatoes with gruyere topping. These cheesy mashed potatoes will have your guests coming back for seconds and thirds. Make individual servings like these
Maple Sweet Potato Cups
from MyRecipes.com. This way you know that everyone will get a cup instead of hoping that the sweet potatoes arent gone before you are served.
Thought Sangria was just a summer drink? Well its become a fall drink as well thanks to Food & Wines
Sage Sangria
. This flavorful drink is a great compliment to your Holiday meal. For dessert, some people arent pie people. Thanks to
Paula Deens Pumpkin Gooey Butter Cake
, you can still have your pumpkin dessert without having pie. This cake will literally melt in your mouth. We suggest serving slices with Cool Whip to get the full Thanksgiving dessert experience.
From all of us at
K&N Sales
, we wish you a happy and healthy Holiday season!