Upcoming Events
19th Annual Crawfish Boil
& Fish Fry
March 20th from 4pm - 7pm
It's time again for our annual Crawfish Boil & Fish Fry. Be sure to stop by our warehouse for good times and great food!
The Living Kitchen
Upcoming Classes:
March 6th
Join Sub-Zero/Wolf Executive Chef Garth Blackburn in our Living Kitchen and enjoy a meal cooked to perfection using Sub-Zero and Wolf equipment.
Cooking with Viking Classes

Viking Cooking School 24 Waterway Ave
The Woodlands, Texas

March 5th
If you love to cook, entertain, or just appreciate the pleasure of great food, the Viking Cooking School is the place to indulge your passions.

Latest Blog Posts
Reorganizing Your Kitchen Cabinets
We've talked about reorganizing your pantry, so now it's time to take a look at your kitchen cabinets. Sometimes it's just easier to pile cooking pans

Read More

From Clutter to Clean: Organizing Your Pantry
You really only go into your pantry to either grab an ingredient or to put up your groceries. Even with the best planning, it can become a mess in no time.

Read More

Introducing Wolfs New Line of Gas Ranges
All of us at K&N Sales are excited to let you know about Wolfs new line of gas ranges. Available for purchase starting in March, these ranges will give you more...
Read More

Jump Start on Spring Cleaning
As we all know in Texas, regardless of what the calendar says spring begins in February. With the sun shining and the fresh clean smell in the air, you may catch...

Read More

Featured Product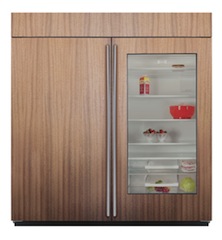 Sub-Zero 36" Refrigerator
36" Built-in All-Refrigerator with 4 Adjustable Spill-Proof Glass Shelves
Humidity-Controlled Drawer
2 Storage Drawers
Air Purification System
Glass Door

Spring Cleaning Fever
Spring is finally in the air. The sun is shining, the birds are singing and youve been bitten by the Spring Cleaning bug. Instead of feeling overwhelmed by all that you have to do to get your home back into pre-winter shape, why dont you tackle it in sections with these helpful tips that we at K&N Sales have found.
As you know, your kitchen is one of the busiest rooms in your home. Its the place where family, friends and you come spend time together whether it is cooking a meal or gathering around the table. Because it stays pretty busy, messes and disorganization are understood consequences. We covered some great cleaning tips in our Jump Start on Spring Cleaning blog like cleaning your vent hood regularly and making sure to run your dishwasher on empty to get rid of leftover food particles.
Since we couldnt put all the tips we found in the blog, heres one from House Beautiful that will have your stone countertops looking brand new in no time. Just simply combine a little Hydrogen Peroxide, a few drops of ammonia with water and you can remove tough stains like tomato sauce in no time.

If your microwave looks like a piece of splatter art, then the TidyMom blog suggests filling a microwave safe bowl with 4-5 tablespoons of baking soda or half a cup of lemon juice and water. Heat the mixture for two to three minutes and then let it set for five minutes. Then move the bowl and wipe the microwave down with a damp cloth. Remember to leave the door open so everything can air out.

Now that youve got everything sparkling clean, its time to reorganize. Weve gone over organizational tips before in an older blog post. One of the newest tips weve found is using organizational tools like wire shelves or a turntable in your refrigerator. Another great idea is organizing your cabinets based on how often you use those items. For example, have your plates and other dinner pottery close to your stove and/or oven to make serving dinner a snap.
The next area to tackle is your pantry. Between all the entertaining during the holiday season and getting your family back into a schedule, it now looks like a disaster zone. As we suggested in a recent blog, the first step to organizing your pantry is cleaning it out. Be sure to go through and get rid of all the items that have expired or have been crushed. Youll also want to get rid of anything that you havent used in the last few months.
When youre putting items back in, think in zones. Create an area for activities like baking, packing lunches, quick dinners, etc. Real Simple suggests putting things you use daily at eye level so youll be to grab and go. Larger items like jugs of olive oil should have a place on the bottom shelf.
We hope these tips will help you get your kitchen to shining splendor. For your kitchen appliance and design needs, be sure to stop by the
K&N Sales
showroom.