Upcoming Events
The Living Kitchen
Sub-Zero and Wolf Showroom
800 Sage Rd., Suite?B
Houston, Texas
? Aug 21st?at 6:00pm
??Aug 22nd?at 11:30am
? Sept 11th?at 6:00pm
Join Sub-Zero/Wolf Executive ChefJoin Sub-Zero/Wolf Executive Chef Garth Blackburn in our Living Kitchen and enjoy a meal cooked to perfection using Sub-Zero and Wolf equipment.
The?Viking Cooking Classes
Viking University 2 (VU:2):
Hubbell and Hudson Market &?Bistro
24 Waterway Ave, Suite 125
The Woodlands, Texas?
? Aug 28th at 6:00pm
? Sept 4th at 6:00pm
? Sept 11th at 6:00pm
? Sept 18th at 6:00pm
? Sept 25th at 6:00pm
If?you have a passion for cooking and wish to expand your culinary skills, then VU:2 is for you. The second installment of our wildly popular Viking University series, VU:2 is highly educational, personally rewarding and fabulously fun.??
?
Latest Blog Posts
Prepare for the Party ? Texans Style
Fun and successful tailgating requires thinking ahead. When the food, beverages and seating don?t work out, then fun tailgating times and the crowd starts to dwindle. Let?s take a look at what you will need to be prepared for Texans tailgating this season!?
Read More

Tailgating Tips
Saturday, August 17th is the Texans first preseason home game against the Miami Dolphins. There are also some important tailgating guidelines and rules at Reliant Stadium. ?Etiquette still applies to game day and we?re here to give you a few suggestions.?
Read More

K&N Sales is Sizzling This Summer: Hot Deals and a Hot Roof to Match!
The summer heat is here, so why not take advantage of all that power? K&N Sales installed Bosch solar panels on the roof of their building last Thursday in ongoing efforts to be ?green? and keep electric costs down?
Read More

Feng Shui Your Patio
Preseason NFL is upon us and if you are planning on entertaining with your fellow Texans fans, then you will want to be sure to follow these easy Feng Shui steps. Fill your home and patio with positive energy by using the principles?
Read More


Steamy Weather: Steamy Cooking & Cleaning
Have you ever wondered what it was like before the modern cooking techniques to which we have grown so accustomed? According to Michael Symons in A History of Cooks and Cooking, "Food has long been baked in coals or under heated rocks, steamed inside animal stomachs and leaves, boiled in rockpots by heated stones, and so forth. An oven could be as simple as a hole in the ground, or a covering of heated stones.? The techniques and art of cooking continued to develop over centuries, with the mass-produced German cast iron stove in 1728, the first realistic coal oven in 1833, gas ovens in 1826 and the first electric stove in 1882. Read more about cooking inventions over time here.
Steam Cooking in a Nutshell
Steam cooking works by continuously boiling water, which becomes steam. The steam, then, cooks the surrounding food with the heat. According to marthastewart.com, food that has been steamed retains more flavor, color texture, vitamins, nutrients and minerals than boiling food. Steaming doesn?t require any added fat, such as butter or oils, making it one of the healthiest ways to cook.
Old-Fashioned Steam Cooking
Remember the punctuated metal flower that was set on top of a boiling pot of water? Many people also recall the bamboo steamer, used predominantly in Asian cultures, which absorbs little moisture and effectively traps steam inside to cook the food. Steaming methods have advanced over the years. Timing, size and capturing more of the nutrients from food while steam cooling have improved. There are more than a couple upgrades found in the up-to-date methods of steam cooking. Let?s take a look!?
?
Time & Money
Cooking time is often reduced when cooking with steam versus other cooking methods. Since there are different tiers in a steam oven, you can cook different things at the same time and place them higher or lower according to how much heat they require. Steam cooking does not use all of the oils and grease that other cooking methods require, which illuminates a lot of the clean up time afterwards. Another plus is that steam cooking requires fewer ingredients and, thus, is usually much less expensive.
?
?
Stay Healthy
During cooking processes?a lot of the water-soluble nutrients are lost, such as vitamin C and vitamin B. By reducing the amount of heat and water used during cooking, it helps retain these water-soluble nutrients. According to one source, almost 100 percent of these vitamins were retained when broccoli was steamed for 5 minutes. Boiling, grilling and broiling have been the latest contenders against steaming food, so we look into them a bit more below.
?
?
Boiling
Boiling is an easy and fast way to cook, but it causes many foods to lose a large amount of nutrients. About 60 to 70 percent of minerals in some foods are dissolved and washed away when boiling due to the large amount of water and high temperatures, according to TIME Magazine.
Grilling
Although grilling can be a fun and a predominantly healthy means of cooking, there are a few negatives to keep in mind. An increased risk of some cancers, diabetes and cardiovascular disease has been linked with some of the chemical reactions produced when grilling. It is important to eat lean cuts of meat and remember that moderation is key.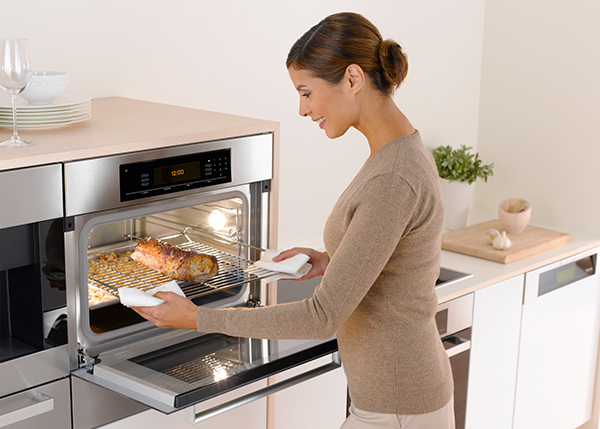 Broiling
This method of cooking is suitable for lean cuts of meat as well, but it is often difficult to avoid drying food out. Timing is critical and clean up is not always the fastest with this cooking method. Many recipes suggest using broiling as a second to grilling, but there are some big differences. To find out some of the differences between grilling and broiling click here.
Steam Washers Work
When steam is integrated into the system of washing clothing, it can increase sterilization, reduce wrinkling and boost the extent to which the fabrics soak. Due to the fact that a large amount of steam can be produced by a very small amount of water, steam washers consume less water and use less power than conventional washers. Steam washers are the wave of the future in washing without much water!
?
K&N Sales has the latest steam ovens and steam washers on the market.? Steam ovens in brands, such as, Miele, Wolf and Thermadore, and steam washers by GE, Whirlpool and Maytag. The staff?s knowledge is extensive about all the ways steam ovens make cooking easier and healthier. Stop in our showroom or schedule an appointment today!
?