Upcoming Events
The Living Kitchen
Sub-Zero and Wolf Showroom
800 Sage Rd., Suite?B
Houston, Texas
? Sept 11th?at 6:00pm
??Oct 9th?at 6:00pm
? Oct 10th?at 11:30am
Join Sub-Zero/Wolf Executive ChefJoin Sub-Zero/Wolf Executive Chef Garth Blackburn in our Living Kitchen and enjoy a meal cooked to perfection using Sub-Zero and Wolf equipment.
The?Viking Cooking Classes
Viking University 2 (VU:2):
Hubbell and Hudson Market &?Bistro
24 Waterway Ave, Suite 125
The Woodlands, Texas?
? Sept 11th at 6:00pm
? Sept 18th at 6:00pm
? Sept 23rd?at 6:00pm
? Sept 25th at 6:00pm
? Sept 26th?at 6:00pm
? Sept 29th?at 5:00pm
? Sept 30th?at 6:00pm
If?you have a passion for cooking and wish to expand your culinary skills, then VU:2 is for you. The second installment of our wildly popular Viking University series, VU:2 is highly educational, personally rewarding and fabulously fun.??
?
Latest Blog Posts
Healthy Afternoon Snacks
School is back in session and everything kicks off in full swing, which can make it a challenge to maintain healthy eating habits. Swinging by McDonalds with the kids, ordering in a pizza and stocking the freezer with quick?bites like Tostito?s Pizza Rolls?
Read More

Look How Far We?ve Come
We?ve been focusing on the latest in cooking, steam cooking, and its many benefits. However, let?s take a look at some of the cooking methods that, in their time, were the latest and greatest. These cooking methods paved the road for?
Read More

Steaming Up the Kitchen with Thermador
Let the best of Houston?s kitchen designers at K&N Kitchen Appliances show you these revolutionary kitchen appliances. Thermador kitchen products give discriminating enthusiasts like?yourself true creative flexibility?
Read More

Feng Shui Your Patio
Preseason NFL is upon us and if you are planning on entertaining with your fellow Texans fans, then you will want to be sure to follow these easy Feng Shui steps. Fill your home and patio with positive energy by using the principles?
Read More


Back to School
The lazy days of summer trips to the beach, summer camp for the kids and family time at the neighborhood pool are dwindling now that the school year has begun. Amidst the hustle and bustle of back-to-school shopping, Meet the Teacher nights and getting back in the routine can make it challenging to find time as a family. There are a number of ways to facilitate spending time with the family despite hectic schedules.
?
Family dinners are a great way to incite communication among family members. The trick is to be consistent with family dinners and avoid overloading yourself with complicated and time-intensive recipes. According to CNN.com, children that eat dinner with their families on a regular basis tend to perform better in school, pick up advanced vocabulary from speaking with adults more frequently and have a lower chance of using drugs, drinking and smoking in comparison to children that have family dinners less than three times a week.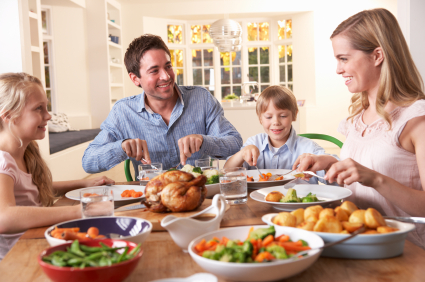 There is no shortage of websites with quick recipes for the busy American family, but here are a few that both adults and children alike are sure to enjoy. Wagon Wheel Beef Stew with tiny wagon wheel pasta to appeal to the little ones and seasoned lean ground beef for the adults. How about an adult version of the widely popular among teenagers Hot Pocket? With only 5 ingredients and picante sauce for a little kick, these Southwestern Chicken Roll-Ups are sure to please the whole family. Read on to find our more quick and healthy recipes for your family this fall.
After School Special
Have your children invite a friend home with them one day after school and get them going in the kitchen. Cooking is a wonderful way for children to learn, while having fun with family and friends. Devilish Eggs, Ants on a Log and Ladybug Salad are a few of the easy and adorable recipes suggested by Utah State University.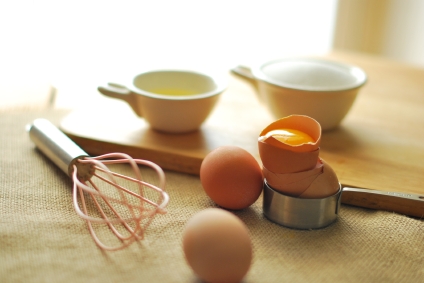 According to the Utah State University, cooking provides the backdrop for learning a variety of topics: math, organization, nutrition, responsibility and culture. Measuring out oil and counting out eggs, while asking math-oriented questions can offer a learning lesson. Recipes from around the world can educate children about different cultures and allow them to try new cuisines. Setting out all the ingredients for a recipe will challenge their organizational skills and working with recipes will show children the importance of following directions.?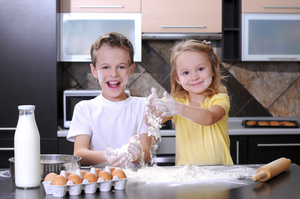 Patio Party
A great way to reconnect with other parents and for your children to catch up with their friends is to host a party one weekend or evening. An outdoor party on your back patio is a nice way to enjoy the outdoors and see everyone you and your children haven?t seen in a few months. K&N Sales has everything you need to create an outdoor kitchen sure to impress all your guests. We touched on outdoor grilling with DCS, Viking and Wolf in our
March blog
. When it?s time to choose an outdoor barbecue your choices fall into the following categories: charcoal grill, gas grill, natural gas grill, smokers, and wood grills or fire pits. Keep an eye on the kids in the backyard and spend time with them and the other partygoers, while preparing food and drinks with your outdoor kitchen space. Outdoor cabinetry, dishwashers, ovens, steamers and refrigerators are all available to transform your patio into an al fresco kitchen experience.
Stop by our?
showroom
?or visit us on our
website
?to find out more about how to get started on your outdoor kitchen.
?