Summer is right around the corner for Houston. Before everyone starts enjoying the long summer days and perfect summer nights, we want to help you make the most out of your outdoor space.
?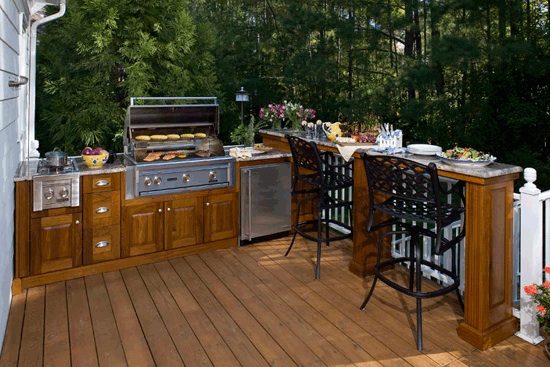 ?
The Decor
?
You already know your outdoor home decor needs to be able to withstand anything Mother Nature throws at it, but you don?t have to sacrifice style for function.
?
Light up your space with lanterns for a touch of style. They will provide comfortable lighting for entertaining friends and family.

A great way to add your own personal flare to the outdoors is colorful accents. You can add a touch of color and patterns to your furniture with colorful accent pillows.

Shading your outdoor kitchen and living area is a wonderful way to add style. You can choose a variety of materials including wood or fabric in order to shade your space.

Fencing or lattice will help separate your space without being plain.
?
The Appliances
?
There is nothing better than a quality grill in your outdoor kitchen.Wolf grills are top-of-the-line and come with so many features. They make grilling your favorite steak a breeze. Every grill is equipped with precision control and easy to use features. They are also manufactured with double-wall stainless steel and precision-welded to stand up to all weather conditions. Wolf offers the option of ?building your grill into your outdoor space no matter what size grill you choose.
?
U-Line makes drinks at your fingertips quick and easy with their beverage centers. We all know Houston is scorching during the summer so having this gem in your backyard will keep your drinks at a cool 34?F. Each one features a combination of glass shelves and wine racks making beverage storage convenient.
?
Side Burners
?
A great grill and small beverage center go a long way in an outdoor kitchen. It provides you with ice cold drinks and easy meal prep, but at K&N Sales we want you to have everything in your outdoor space...and then some which is why we are huge supporters of side burners. Side burners will allow a little extra cooking space without taking up a large amount of room. Wolf?s 13? Side Burner gives you the ideal space for heating up side dishes, sauces, or buns.
?
The Recipes
?
Grilling food can be simple or involve several steps. We have found a tasty grilling recipe for you to enjoy from Southern Living.
?
Chipotle-Orange Chicken Legs
?
Ingredients
1 cup fresh orange juice, divided
5 tablespoons soy sauce, divided
3 tablespoons brown sugar
2 tablespoons olive oil
6 garlic cloves, pressed
1 tablespoon orange zest
1 1/2 teaspoons kosher salt
1 teaspoon ground chipotle chile pepper
2 pounds chicken drumsticks (about 8 drumsticks)
2 teaspoons brown sugar
2 teaspoons cornstarch
Preparation
1. Preheat grill to 350? to 400? (medium-high) heat. Combine 1/4 cup orange juice, 3 Tbsp. soy sauce, 3 Tbsp. brown sugar, and next 5 ingredients in a shallow dish or large zip-top plastic freezer bag; add chicken. Cover or seal, and chill 10 minutes. Remove chicken from marinade, discarding marinade.
2. Grill chicken, covered with grill lid, 10 to 12 minutes on each side or until done. Remove from grill; cover with aluminum foil, and let stand 10 minutes.
3. Meanwhile, whisk together 2 tsp. brown sugar, remaining 3/4 cup orange juice, and 2 Tbsp. soy sauce in a small saucepan. Whisk together cornstarch and 2 tsp. water, and whisk into orange juice mixture. Bring mixture to a boil over medium heat, and cook, whisking constantly, 1 minute or until thickened. Brush sauce over chicken.
?
No matter what you decide to do for your outdoor living space, K&N Sales is here to assist you. Visit our showroom or contact us today!
?
?