?Hot Fall Savings on Wood-Mode Custom Cabinetry. Plus: K&N Sales Catches you up on all of our Latest Blogs!
The Wood-Mode ?Pick-2? Savings Event is going on now, and we could not be more ecstatic to tell you about it. ?The opportunity to offer more clients access to the quality and craftsmanship of Wood-Mode custom cabinetry is exciting. ?In the past, customers have reported saving up to $15,000. ?Now that we have your attention, here?s how the ?Pick-2? Savings Event works:
?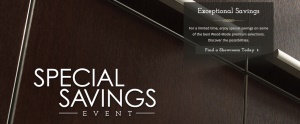 ?
Shop Wood-Mode and enjoy 100% off your first premium and 50% off your second premium cabinet options*. Customers can choose between Door/Drawer head, Finish Premium, or Wood Species to maximize savings.
?
If this sounds like the type of deal for you, stop by our showroom at 1401 Shepherd Drive?this deal ends on December 18 2015, but orders must be placed by the beginning of December to ensure accuracy.
?
*Stainless steel and backpainted glass door styles are excluded from the 100% off premium selection, but are eligible for the 50% off premium.
?
Now let?s transition to our weekly blog. ?If you haven?t had a chance to check it out lately, now is your time to catch up! ?During the month of June, we touched on several topics including:
?
July focused on the following:
?
August covered the following topics:
?
And ending with the month of September:
?
If you would like to take advantage of the Wood-Mode ?Pick 2? Savings Event or any other of our wonderful specials, visit our showroom and don?t forget to follow us on Facebook, Twitter, Pinterest, and Houzz!
?
?